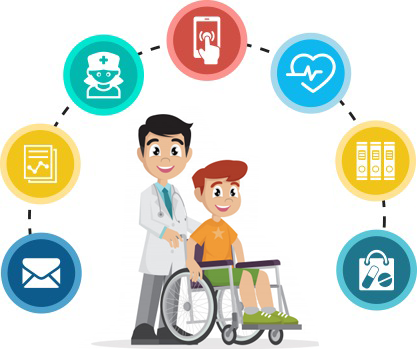 IoT technology is gaining great traction in various industry sectors these days. One of the sectors in which it has already been established to a great extent is healthcare. A few years ago, medical practitioners were closely watching the development of IoT to see if it would be part of their future. Today, it is already a reality, and it's making life easier for healthcare providers and patients alike.
Thanks to the maturity of the marketplace and all the hardware options available today, along with the different apps available to support them, hospitals are in the implementation or post-implementation stages of latest IoT products. The future of IoT in healthcare is now. In fact, Aruba Networks predicted 87% of healthcare organizations will be using IoT technology in their facilities by 2019. Aruba's report further stated that 73% of applications of IoT in healthcare will be used for remote patient monitoring and maintenance, 50% for remote operation and control, and 47% for location-based services.
Wearable devices that can be worn by patients are becoming widely popular. These devices transmit data to physicians and thereby allow doctors to monitor vital signs in real time, including their heart rate, glucose levels and even fall detection. Thanks to medical remote patient monitoring devices that collect key real-time data elements, patients are able to be in the comfort of their own homes while still under the watchful eye of a health professional.
In addition to patient monitoring, IoT enabled devices help in medical inventory management, helping to locate and manage assets, such as wheelchairs, thermometers or IV poles within a hospital, and thus increase staff efficiency.
Implementing IoT can bring about a huge impact in the overall efficiency of operations in healthcare institutions. So if you are into healthcare and having started leveraging the benefits of IoT, don't wait any further. This is the time to do it.