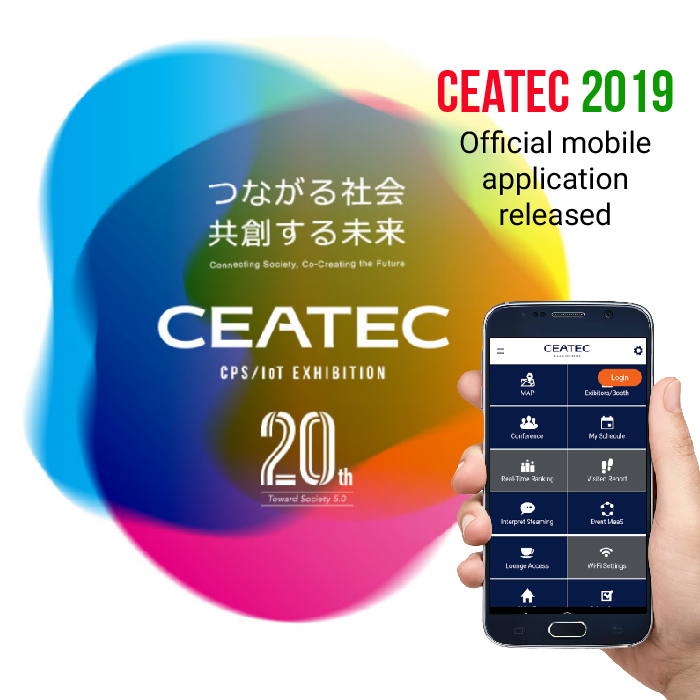 We are excited to announce that we have released the official mobile application for Ceatec 2019. The application is now available for Android and iOS users.
Ceatec is Japan's largest IT and electronics exhibition and conference. It's the Japan equivalent of mega trade shows like CES in the US and IFA in Europe.
The application provides a wide array of features for visitors including Interactive Floor Map to show your location, Booth Search and Seminar Search, Playback of simultaneous interpretation sessions, real-time booth ranking, QR code for users to check availability and location of each lounge for convenient access, history of booths visited on a day, cab reservation facility and much more.
Ceatec 2019 will be held from October 15-18 at Makuhari Messe, Chiba, Japan. The theme of Ceatec 2019 is connecting society through Society 5.0 – Japan's national vision for the creation of a human-centric community in which people can enjoy comfortable, active lives within an ultra-smart society that both promotes Japan's economic development and solves issues that impact all countries. This year's event will feature 500+ exhibitors from various industry sectors and is expected to attract 200000+ visitors.
Know more about pinmicro's event platform and mobile application for Ceatec from here